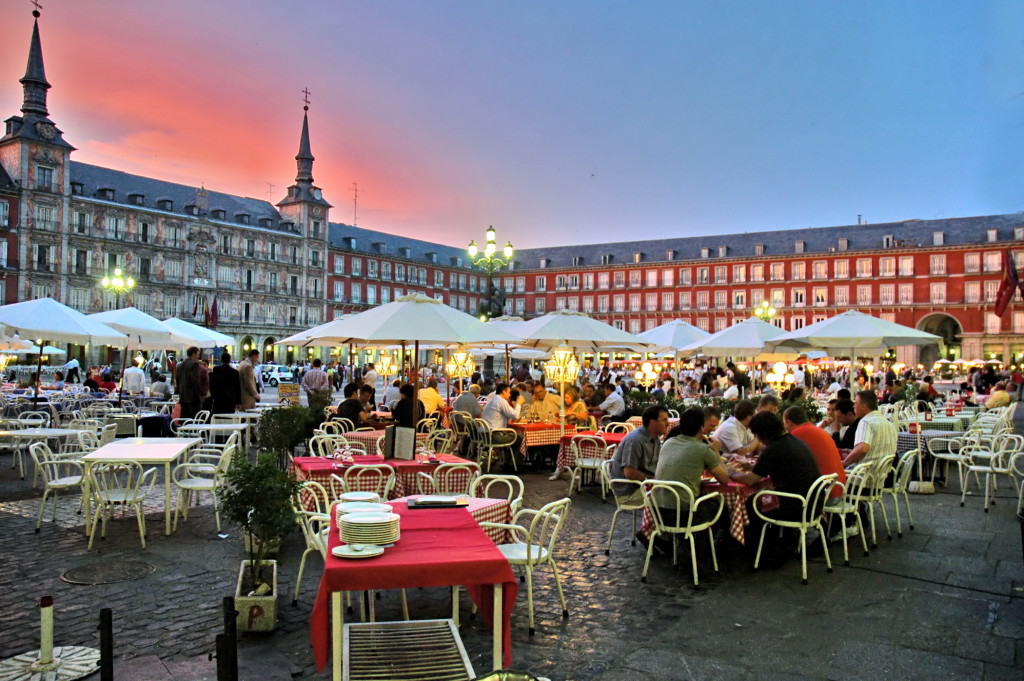 Madrid is roasting hot in the summer, there's no getting away from that. I visited the City for the first time in July 2013, arriving at the cavernous Barajas airport at about 11pm where it was approximately 20 degrees hotter in the taxi queue than it had been in London.
It felt even hotter at 9.30am the following morning when I headed from my hotel to the office where I was to have the key interview for the job I now occupy. The distance between the hotel and the office is 300m. By the time I arrived I looked like I had walked through a monsoon rather than under brilliant blue skies and blazing sunshine. That's not a good look for an interview with a CEO.
Mercifully, he was running a little behind schedule and I was deposited in a meeting room to wait. Happily, there was an air-conditioning unit in the corner of the room. I stood spread-eagled in front of it for the 10 minutes or so it took me to dry off. I still wasn't going to look my best, but I also wasn't going to be rocking the Ted Stryker-sweating look.
I didn't see a lot of Madrid that day. The 18 hour whistle stop visit was like a lot of the 'glamorous' business travel I undertake. Airport-hotel-office-airport is the full extent of many experiences, and it was that day.
So the view from the taxi between the office and the airport for the return trip along the M30 and A2 provided the only perspective I could get of Madrid. And to be honest, it's a pretty ugly view, dominated largely by unattractive residential tower blocks, even less attractive commercial office blocks and a fair bit of scrub and wasteland.
Madrid is a city that hides its treasures close to its heart. From the M30 ring road motorway, it is not a beautiful city. Indeed most of the outskirts are pretty hideous, saved only by the views to the Sierra de Guadarrama to the north. (And I say this even now as someone that loves and cherishes Madrid.)
You need to get down town to appreciate its charm and beauty. To sophisticated and wealthy Salamanca, to charming and bustling Lavapies. To the splendor around the beautiful Retiro and the peace within it. And to myriad other great neighbourhoods.
But first impressions: it's no Paris. Nor even London. Both of those cities have their fair share of ugly suburbia – most cities do – but they're much much bigger and spread out than Madrid and as you drive in from their airports you don't need to wait quite so long to be given a glance of what the fuss is all about.
But it's not the architecture that makes this City what it is, it is its spirit and vitality. Life here is lived on the streets – la vida de calle – at all hours of day and night. It is bustling, cheerful and inclusive. It is youthful and optimistic. It is different.
Hemingway – and I'm going to try not to make too much of a habit of quoting the great man – had it about right – "Madrid is a strange place anyway. I do not believe anyone likes it much when he first goes there. It has none of the look that you expect of Spain… Yet when you get to know it, it is the most Spanish of all cities, the best to live in, the finest people, and month in and month out the finest climate. While other big cities are all very representative of the province they are in, they are either Andalucian, Catalan, Basque, Aragonese, or otherwise provincial. It is in Madrid only that you get the essence… It makes you feel very badly, all question of immortality aside, to know that you will have to die and never see it again."
It's a wonderful City, and three years in we continue to find new places to explore and enthuse over.