Madrid may not have a beach, but just a short drive north you can find La Pedriza in the Sierra de Guadarrama mountain range which provides a cool haven and plenty of outdoor activity for those wishing to escape the City.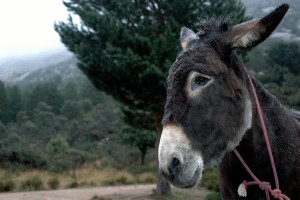 Usually by January, the Sierra, which reaches almost 2,500m are snow covered. But this has been no ordinary winter and throughout the autumn the backdrop to the range – which I can see from my office in the City – has been brilliant blue sky and sunshine. (We have had just the one light dusting of snow this season.)
It was refreshing therefore to head out for a New Year's Day hike at La Pedriza, which is notable for its magnificent and strange granite boulders and outcrops, and find it doused in a soft rain and mist that made the usually magical setting even more atmospheric than usual, almost ghostly in fact, with the strange granitic shapes often only visible as distant shadows.
When the weather's good La Pedriza, which is just outside the small town of Manzanares El Real whose 15th Century castle is worth a visit on the way through, the hiking routes can be a little crowded and parking restricted to the base of the national park (Parque Regional de la Cuenca Alta del Manzanares) which necessitates half an hours climb to the main sites. It's worth the additional effort though and the couple of ramshackle cafés that serve the park offer refreshment. On a wet winter's day, however, such as New Year's Day, the park is peaceful and deserted.
There are a couple of set pathways that offer a six kilometre round trip taking in the main viewing points. There's quite a lot of climbing involved, which makes it a fairly demanding hike and ensures that away from the main sites around the river at the base of the park it doesn't get too crowded.